The Mercy of Thin Air, Ronlyn Domingue
★ ★ ★ ★
From Amazon: "New Orleans, 1920s. Raziela Nolan is in the throes of a magnificent love affair when she dies in a tragic accident. In an instant, she leaves behind her one true love and her dream of becoming a doctor -- but somehow, she still remains. Immediately after her death, Razi chooses to stay between -- a realm that exists after life and before whatever lies beyond it.
From this remarkable vantage point, Razi narrates the stories of her lost love, Andrew, and the relationship of Amy and Scott, a couple whose house she haunts almost seventy-five years later. The Mercy of Thin Air entwines these two fateful and redemptive love stories that echo across three generations. From ambitious, forward-thinking Razi, who illegally slips birth control guides into library books; to hip Web designer Amy, who begins to fall off the edge of grief; to Eugenia, caught between since the Civil War, the characters in this wondrous novel sing with life. Evoking the power of love, memory, and time, The Mercy of Thin Air culminates in a startling finish that will leave readers breathless."
This sums it up better than I am able.....
It was a lovely book, haunting, mysterious told in the first person of Raziela (the ghost), who is still searching for he long lost love whom she left behind when she died.
It was not a difficult read per se, but one that I found to be lyrical and floating in such a manner that I had a difficult time keeping a grip between worlds.....
This book isn't for everyone, especially those who dislike "other-worldly" literature.... nor is this a "favorite" and there was something missing for me, but I enjoyed the story.
-------------------------------------------------------------------------------------------
Miss Pettigrew Lives for a Day, Winifred Watson
★ ★ ★ ★ ★
Honestly, what a lovely story... It was originally written in 1938, as a "Cinderella" story. It was nicely written and a very quick & enjoyable read... I finished in a few hours time, because I only put it down once.
Miss Pettigrew is a "Lady" of no means. She is middle age (40), has been asked to leave her flat for lack of payment, and is at the agency for what very well could be her last assignment.
The agency offers her a choice of positions: one as a lady's maid, the other as a governess.... Although Miss Pettigrew chooses the position as the governess, she is mistakenly sent to the home of a cabaret singer/actress's home.
Miraculously, Miss Pettigrew finds the gumption she has always lacked and saves her would be employer from some sticky situations. As the course of the day progresses (the book is written in 2-3 hour time frames), Miss Pettigrew also helps several of the actress's friends and is taken along with them to the club where the actress works & then to a party.....
It was very interesting to note the changes that occur in Miss Pettigrew as well some of the other characters.... Throughout it all it is noted that Miss Pettigrew is a "Lady" and how the others respect that aspect of her being.
-------------------------------------------------------------------------------------
Smoke Gets in Your Eyes and Other Lessons From the Crematory, Caitlin Doughty
★ ★ ★ 1/2
Funny? No. Weird, oh you betcha! A smile here & there, but I didn't laugh.....
Caitlin born in HI, moved to San Francisco. In need of a job she applied and was accepted at a Crematory in Oakland, CA where she learned quite a bit about death, dying, cadavers, & human nature. This book is her story of the time she worked as a Crematory button pusher.
She also wrote about the condition of cadavers...... Did you know that Obese people's fat melts and pools in the floor crevices of the crematory and not only that but their bodies decompose faster (and smellier), because all sorts of bacteria & stuff attacks the fat? I didn't, I do now!
That even if you "stiff" (pun intended) the mortuary (in CA), they can not withhold family remains... they legally belong to you?
In CA, bones are now ground up into a fine powder and go w/ the ashes, so there are no chunks?
The chest is the first part to be cremated, because it is the thickest part of the body & the most difficult to reduce?
That the smallest cadavers & parts are cremated last?
That some Crematories once had peepholes so the family could view the cremation?
Ok..... not funny, but very interesting!
Caitlin Doughty went on to become a licensed mortician and the host and creator of the "Ask a Mortician" web series. She founded the death acceptance collective The Order of the Good Death and cofounded Death Salon. She currently lives in Los Angeles.
--------------------------------------------------------------------------------------------
All Fall Down, Jennifer Weiner
★
This is my misguided/disastrous attempt to break away from Agatha Christie.... Normally I ♥ Jennifer Weiner's books, I have been reading her work as far back as I can remember, but this will be my last time reading her, as I find her work is becoming more & more tragic and her characters less & less likable.
From the inside flap: "Allison Weiss got her happy ending-- a handsome husband, an adorable little girl, a job she loves, and a big house in the suburbs. But when she's in the pediatrician's office with her daughter and a magazine flips open to a quiz about addiction, she starts to wonder whether her use of prescription pills is becoming a problem. One one hand, it's just medication, the stuff her doctors give her. Is a Percocet at the end of a hard day really different from a glass of wine? Is it such a bad thing to pop a Vicodin after a brutal Jump & Pump class.... or if your husband ignores you?"
So let me qualify the review by saying; had I read the flap first, I'd not have checked out the book to begin with. Had I read the flap before I opened & began reading the book... well, I'd have not bothered. As it was, I didn't and so you are going to get a scathing review.
Immediately, in the first chapter I hated Allison & her misbehaved bratty daughter. They are in the pediatrician's office and the kid begins whining that she doesn't want to wait.... The when she wants a drink of water she refuses to use the drinking fountain in the office, because of all the sick kids drinking from it (lest she become sick). Then without permission digs into her mother's purse, pulls out Allison's bottle of Vitamin water & with an impish look on her face proceeds to drink it all.... At the last minute she spits the last swallow back into the bottle and screams: "Ellie! Backwash!"
So here we have a woman with the life, family, job, & home that she has always wanted and she's stressed, unhappy, and now is taking drugs.... Plays the song: "Mothers' Little Helper" by the Stones
So I say: "Boo Hoo... who cares? I sure don't!"
The characters were nothing more than spoiled "me-mes" and I felt no pity, compassion, not anything for them....
So I guess I'll go back to my Agatha Christie marathon......
------------------------------------------------------------------------------------------------------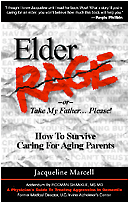 Elder Rage: or Take My Father, Please, Jacqueline Marcell
★ ★ ★ ★
I'd say it was "humorous", if I wasn't dealing with a similar (yet not as advanced) situation..... Her father's psychotic dementia induced rages were not funny.... They were frightening.
From her webpage: "Are You At Your Wit's End With Elder Care And coping with an elderly loved one who:
•

Makes unreasonable demands, wanting all of your time? •

Is experiencing memory loss or dementia / Alzheimer's? •

Is obsessed with ill health, but refuses to see the doctor? •

Has become depressed, manipulative, distrustful or hostile? •

Refuses any mention of caregiving or elder care help?
Then you'll love this riveting true story, written with compassion, heart and humor—and realize that you're not alone with your countless frustrations and conflicting emotions. This incredible roller coaster ride is a can't-put-it-down page-turner, as well as a how-to guide for struggling caregivers. Triumph with this devoted daughter as she mends her frail mother and finally turns her rebellious "Jekyll & Hyde" father around, with the right doctors and medications, adult day care, and creative behavior modification—at 85 years old! Eldercare Expert, Jacqueline Marcell, Answers Your Caregiving Questions!
You Will Learn
•

How to get an accurate diagnosis for dementia/Alzheimer's. •

Behavioral techniques for managing challenging elders. •

Creative ways to get an obstinate elder to give up driving. •

Where to find resources to make caregiving less stressful. •

How to successfully navigate the maze of elder care.
A Book-of-the-Month Club selection, Elder Rage is a unique combination non-fiction novel and self-help book. Includes a wealth of practical information, valuable resources, Alzheimer's disease information, startling statistics, long term care insurance, caregiving tips, eldercare services, long term care trends, recommended reading, and how to hire live-in caregiving help. Suitable for anyone facing the challenges of caregiving and for everyone who thinks it will never happen to them!
"Jacqueline's story and style of writing will surely grab a large readership. Studded with flashes of humor, it demonstrates the enormous resourcefulness and resilience of the human spirit."
—Hugh Downs" http://www.elderrage.com/
All I can say, is I learned several things about Elder Rage, and the loss of control that helps bring it on.... I highly recommend it for anyone dealing with elderly parents who have spontaneous outbursts of uncontrollable anger....
I left my copy for my parents to read. -----------------------------------------------------------------------------------------------
Season of the Dragonflies, Sarah Creech
★ ★ ★ ★
When her marriage fails, Lucia, returns home to the family home in the Blue Ridge Mountains, where her mother Willow & Mya (Lenore) run the family business.
The Lenore business is that of a making a secret scent that has been in the family's trademark for generations. The scent empowers those who are who are carefully chosen & groomed by the family for success.
When Mya's lust for power & control of the business takes over, Mya makes several bad business decisions. Those decisions threaten to destroy the Lenore family & business forever and awakens Mya's Great-Grandmother's curse upon her.
Not being able to trust Mya, Willow, subtly shifts the control of the business over to the unsuspecting Lucia.
This is a wonderful book filed with magic, romance, & one too many happy endings (hence - 1 star). It was engaging, evocative and from the beginning to the end it held my interest.
A delightful dose of Magickal realism.