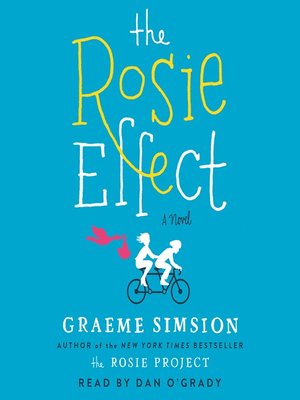 The Rosie Effect, Graeme Simsion
★
I read this by mistake... I thought I had put "The Rosie Project" on hold, but I got it wrong.
I didn't like the characters, I didn't like the dull a.r. form of narration, I didn't like the story. I wanted to like Rosie, but she was never a "real" person to me. She was just another flat dull character this nerdy unthinking guy was talking about. They didn't even seem connected as a couple.
Waste of my time, which makes me think that book one will be as well.
--------------------------------------------------------------------------------------------
All Girls Filling Station Last Reunion, Fannie Flagg
★ ★ ★
What can I say.... I expected more. The first chapters were so boring that I almost put the book down, then I happened upon Fritzi and her learning to fly. Then the book mostly turned around.
But here's the thing I really didn't care about, Sookie or her family, I liked the Fritzi & her family and that is what kept me reading.
Sookie inadvertently finds out that the woman who she has known as her mother had adopted her..... However, since Lenore always bullied Sookie, hoping Sookie would be someone/something she wasn't; Sookie puts off telling Leoner that she knows.
Meanwhile every-other chapter was about Fritzi, her family and the history of the WASPS, and I found those chapters delightful and very interesting.
The coming together of Sookie & Fritzi was interesting but a bit of a let down.
---------------------------------------------------------------------------------------------
First Frost, Sarah Addison Allen
★ ★ ★1/2
This is a nice sequel to "Garden Spells" and thankfully (because I didn't know that it was the Sequel), I wasn't as invested in liking the book as I thought I might otherwise be, so I wasn't overly disappointed.
Sydney & Claire, sisters who share the Waverley "gift", are now both living in Bascom, NC, married to good men who love and support them.
Sydney runs the local salon & her work does magical things for her clients, while Claire has set aside her popular catering business changing it into a country-wide famous confectionery.
Their daughters, Bay & Mariah both have the infamous Waverley "gifts", but they seem to be less pronounced in Mariah which sets Claire to questioning her place in the family and her own Waverley gifts.
In late autumn, just before first frost & the blooming of the Apple Tree, a mysterious stranger comes in to town sending feelings of foreboding through Bay & Claire...
Sydney is upset as she is trying to give her husband a son; her receptionist at the Salon, Violet, is becoming more of a problem and a thief; and she is worried about her daughter Bay who has fallen for the son of the man that shattered Sydney's world & heart upon graduation.
Cousin Evanelle, is still out & about giving odd "gifts" to those in need of them.....
It is a nice story, but it just didn't have the sense of magick nor did it hold my interest as much as "Garden Spells". The characters could have been more active in their "gifts" and I would like to have had Evanelle, Apple Tree, & Em be more active in the story because their gifts were important to the story as well.