I do apologize, since I retired a year ago from the Library, I really haven't been reading as much: I'm busy with my new career as a photographer...... So, I'm going to try and catch up with my reviews:
The Laws of Murder: Charles Finch
★
★
★
★
1876: Charles Lenox has stepped down from Parliament in order to work full time as a detective in an agency he has opened w/ three other people: John Dallington, Polly Strickland Buchanan, & the Frenchman LeMarie.....
But all is not going as well as they would hope, as a friend of Charles, Inspector Jenkins (of Scotland Yard, with whom he has worked closely), has made disparaging remarks about Charles to the local papers and the agency has lost business because of it.
A few nights later, Inspector Jenkins is found shot in the head with a cryptic clue in his shoe addressed to Charles, and in addition has left a message w/ his subordinate, Inspector Nicholson, that should something happen to Jenkins, Charles Lenox should be called in to investigate.
Days later, Charles finds out that Jenkins had been investigating the Marquess of Wakefield, who was known for his violent temper & illegal business gains.... The cryptic clue is a ticket to a ship's hold, owned by Wakefield, and upon pulling the ticket's cargo from the hold they find a trunk not only filled w/ salt but with the body of the Marques as well.....
The book twists & turns and eventually many high ranking members of London's Privileged Class are caught in a scandal of enormous proportions....
I like Charles Lenox and his coterie of close friends. They all have their flaws but are warm, intelligent, & are dedicated to improving the lives of others.
*******************************************************************
Rebel Belle: Rachel Hawkins
★
★
★
★
Oh my this was a light, delightful, funny YA Fantasy book, that now has a sequel!
Harper Price is an over-achieving Southern Belle w/ the perfect life: boyfriend, parents, & friends.
She is at the prom, about to be crowned Queen, when she goes to the bathroom in order to put on lip-gloss. There she finds the janitor dying, as she bends over to check him, he pulls her close and gives her a kiss of icy cold breath.
Immediately, her history teacher barges in w/ a scimitar and tries to kill her, but she saves herself by shoving the heel of her shoe into his carotid artery.
She leaves the bathroom to get help from her friend(s), and when she returns the bathroom is empty & spotlessly clean.
Much to her dismay, Harper has become a Paladin and it is her duty to protect the Oracle, who just happens to be her nemesis, David....
What is worse it will all come to a head in the midst of Cotillion.......
I found this book to be fast paced, funny and filled with action. I liked the characters, they were not over-written or campy....
I am already reading the sequel "Miss Mayhem"
*******************************************************************
Miss Mayhem: Rachel Hawkins
★
★
★
Because I wanted more and I didn't want the story to end so soon....
Harper Price is a Southern Bell who has survived an attack on her being the night of Cotillion.... Her new boyfriend, David, the Oracle had come into his power by way of a spell of a Mage.....
During Cotillion, All Hell Broke Loose and the Mage who had been protecting the Oracle for all of his life was killed, but luckily there was another human around and she breathed her Icy Breath of Power into him. Unfortunately for Harper (Paladin) & David (Oracle), the new Mage is Ryan, Harper's ex-boyfriend.
During the fray, Harper's best friend Bee was abducted.... and in this Sequel, they all set out to find her. What they find is Bee is a new Paladin and unless Harper can pass the ultimate Paladin tests, Harper will die and Bee will take Harper's place.....
Basically, life goes on for them and there is more than one relationship issue. The future of the Oracle is uncertain and Harper, Ryan & Bee have all pledged to keep David safe for life, but all they really want to do is live normal lives....
This was a fast & entertaining read, and except for their super-power life, they were like any other teenagers....
Like I said, I wanted more, and Nicole R, you will too! But, I don't think the author really had any choice in ending the story where she did, because I truly believe, she didn't know where else to go w/ the Oracle and keep the others in a balanced teen life.
*******************************************************************
Sprout: Jennifer Wayne
★
★
★
What can I say?
Sprout is very, very interested in elephants..... his dream is to one day ride one.
One of the little boys in his school has ridden one (or so he says)... but he is not a nice little boy.
One day, Sprout heads out for the zoo but ends up lost.... He accidentally runs into the housekeeper & her daughter. The little girl takes Sprout to the local secondhand store where she shows him a red plaster elephant holding up a table, which he promptly buys.
Sprout puts wheels on his elephant & takes it to school, causing an uproar............................
I'm not telling you the rest, it would be a spoiler.
*******************************************************************
Death of a Liar: M.C. Beaton
★
★
★
New neighbors (husband & wife) move into Lochdubh, they buy the school house and proceed to alienate the locals.......
A woman calls Hamish claiming she was raped..... but upon medical exams finds her to be a Virgin, and a well known liar. <
Soon all three are dead..... Not wanting Hamish to get any credit, SOB Blair sends Hamish to investigate the death of the Liar, which happens to be connected to the murder of the couple.....
There is an odd new church on the Loch Ness, two hidden diamond engagement rings, a cache of money, some very nasty crooks, and very nervous mortuary owners.....
Hamish is confused (as always) by 4 women; Elspeth (his fomer & now well known newswoman), Priscilla (local love & cold fish), Anka (a mysterious Polish baker & companion of former policeman Dick), and Christine (the new forensic tech).....
I liked the twists, turns, & connections, they kept me very interested but then I got to the Hamish vs Blair parts & I'm tired of those..... as well as his stupidity about women......
There is the usual b.s. w/ SOB Blair trying to discredit Hamish & get him fired, as well as the growing wishy-washiness of Chief Daviot (who should know to trust Hamish & distrust Blair)....
This is what made me mark this down 1/2 (ultimately) 1 star!
*******************************************************************
Arranged Marriage: Chitra Banerjee Divakaruni
★
★
★
I normally love her work, as most of it is uplifting w/ a mixture of spirituality & magical realism. This book of short stories fell short for me.
It was because there was nothing redeeming about the misogynistic culture and feudal expectations that the women in these stories had to live with & endure.
Lyrical as the writing was, the romance of India was portrayed for what it is/was.... oppressing.
I'm glad I read it, but it left me wanting one of her other "feel good" stories.
*******************************************************************
Wicked Craving: G.A. McKevette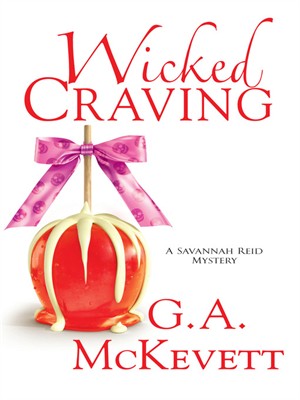 ★
★
★
I read it on vacation & left it in the airport....
Savannah is a plus sized, former police office who now runs a PI firm in the sleepy beach town of San Carmelita. She works along side police detective Dirk Coulter, who is her "boyfriend" and who she loves to feed home cooked Southern foods....
Dirk has asked Savannah to help him with the murder case of the wife of an infamous diet "doctor" (who uses hypnosis with his clients) is found at the foot of the cliff of their sea side home.... Her corpse showed signs of struggle & blunt force trauma and the jewelry she was wearing that night (rented from a big name jeweler) is gone.
The doctor (a con man w/ a shady Las Vegas past) was having a affair w/ two different patients; one pregnant w/ his child, the other an abused wife whose husband has recently come into a large sum of cash and has recently moved into the doctors gated community.
Chasing the doctor are two very disgruntled men; a bad guy (ex-partner & con man) from Las Vegas and a patient who he promised to help quit gambling w/ his infamous method of treatment.
On top of all of this the doctor's wife was having an affair and it turns out, she wasn't his wife after all..... There is no lack of suspects.<br/><br/>To make matters even more complicated, Dirk is of his feed and is upsetting Savannah a great deal by refusing to eat & leaving her abruptly.......
Meh.... The story line of the murder was fine (I never figured out who did it), but the involved characters were really detestable people and Savannah was bitchy throughout the entire book....
*******************************************************************
To Say Nothing of the Dog: Connie Willis
★
★
This was a story about time travel, rebuilding the Coventry Cathedral w/ some butt ugly fancy name brass flower pot, saving of a cat from drowning, 3 romances, spiritualism, too much scientific & historical explanations and way too much hysterical blathering.
I just wanted the book to be over.....The part about "Three Men in a Boat on the Thames...... and a cat" was so awful and affected that I nearly quit before I got half way through.
Connie Willis had a great premise, but she had to prove to herself & readers how very artful and clever she is, with all the unnecessary minutia, side conversations, and interruptions which ruined the book for me.
*******************************************************************
Artists in Crime: Ngaio Marsh
★
What tripe, I was finally happy to get a book by Marsh (as I had heard so many good things about her writing) but if this is an example of her work, it is the last one I'll pick-up.
Inspector Alleyn is on a cruise of the South Pacific when attempting to escape the clutches of an amorous seductress he comes across Agatha Troy, a very well known artist & chats her up a bit.
However later (in the next chapter) there is a set of dreadfully written letters to & from Agatha Troy and a second set of equally dreadful letters to & from Alleyn and his "Mamma"
Then suddenly we are in England in the Agatha Troys studio w/ a group of unlikable student artists & a model w/ an attitude. The model is snarky, whiny & refuses to hold a pose, that is being used by one of the student artists for an illustration that will be used in a murder mystery....
And the model is found dead, impaled upon a dagger hidden in the folds of the drapery she reclined upon while posing for the illustration.....
Oh who did it? Oh who cares?